Combi boilers from Vaillant, Ideal and Worcester installed
If your combi boiler is costing a lot to run and is inefficient – let us quote you for a new one from Vaillant, Ideal or Worcester Bosch. Did you know that we can supply and fit an 'A' rated boiler from £1895.00 and, as an Advance Installer for Vaillant, your warranty can be up to 10 years. 
Kemco Heating Engineers will ensure your new boiler has the right specification for your property.
Our
Gas Safe
qualified engineers supply and fit to the highest standards so you know you are in safe hands. Our local engineers can guarantee you a fast and professional service, and we can advise on a range of combi boilers from the world's leading boiler manufacturers including Worcester, Vaillant and Ideal, offering extended warranties up to 10 years with our Advanced Installers Scheme.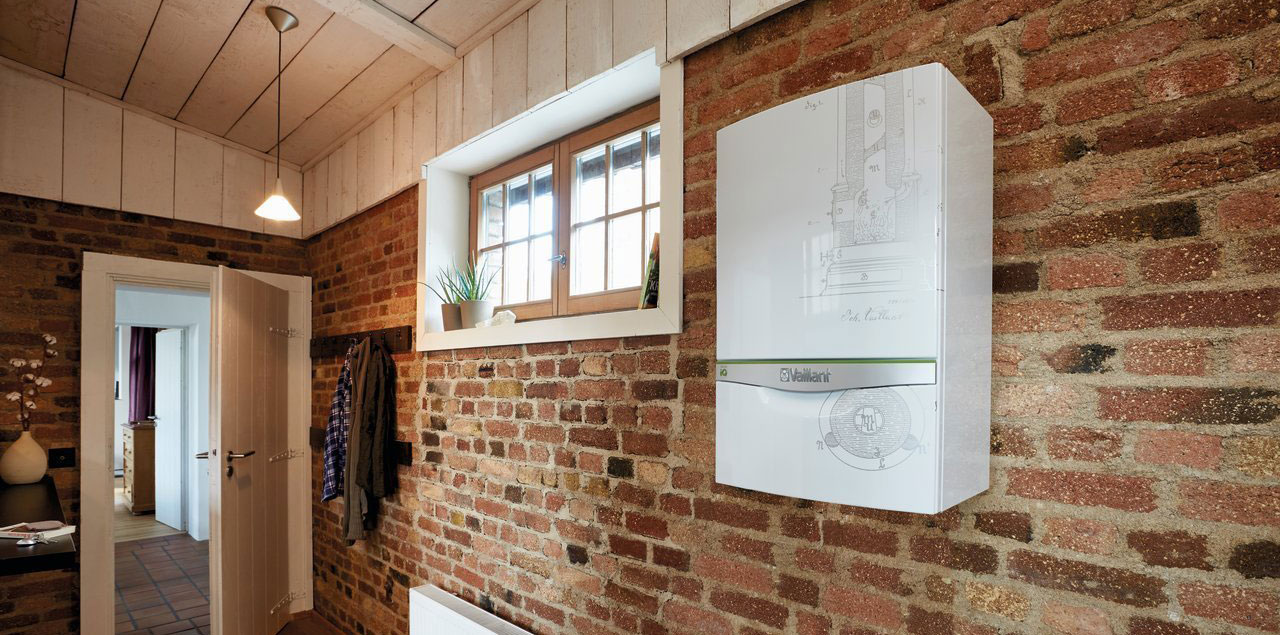 Our engineers will assess your current central heating system and provide you with the best recommendation. Requirements can vary considerably, and it will depend on the size of your property. A combi boiler could be more efficient for you or you may wish to look at higher energy-related or eco products. Some manufacturers are currently offering extended warranty periods of up to 10 years, giving full coverage against faults and defects. Most of these warranties are subject to a yearly service, so it is worth considering the terms and conditions before you commit fully. Technology is always improving and boilers, like most other appliances, are certainly getting smaller. We appreciate that most customers will want the smallest solution possible, especially if size is an important consideration in their kitchen or if they are installing a new kitchen. If you live in a larger property, then your demand for hot water and heating will be much greater and there is a limit to how large a property a combi boiler can supply with hot water and heating. These are just a few of the relevant reasons that discussing your requirements with experienced heating engineers, before ordering a new boiler, is vital to ensure the right product, with the right output, is installed.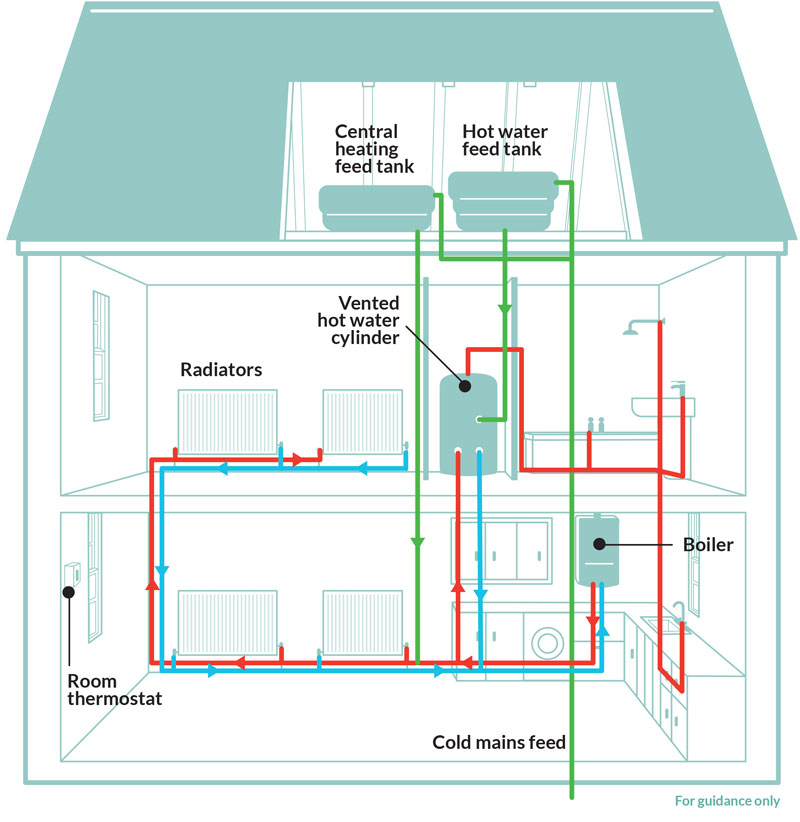 Conventional gravity fed system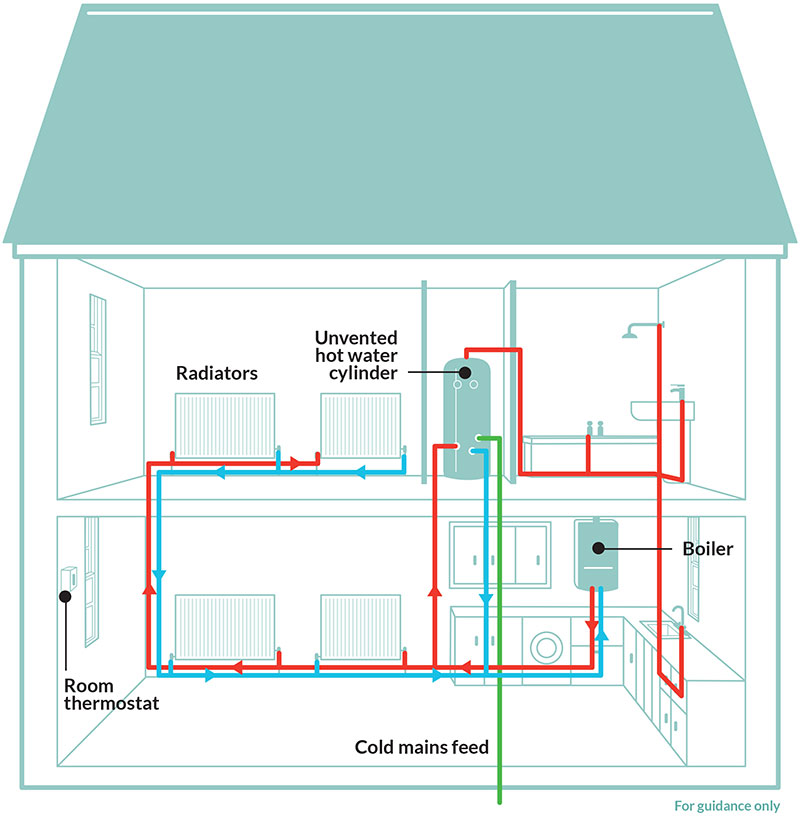 Unvented system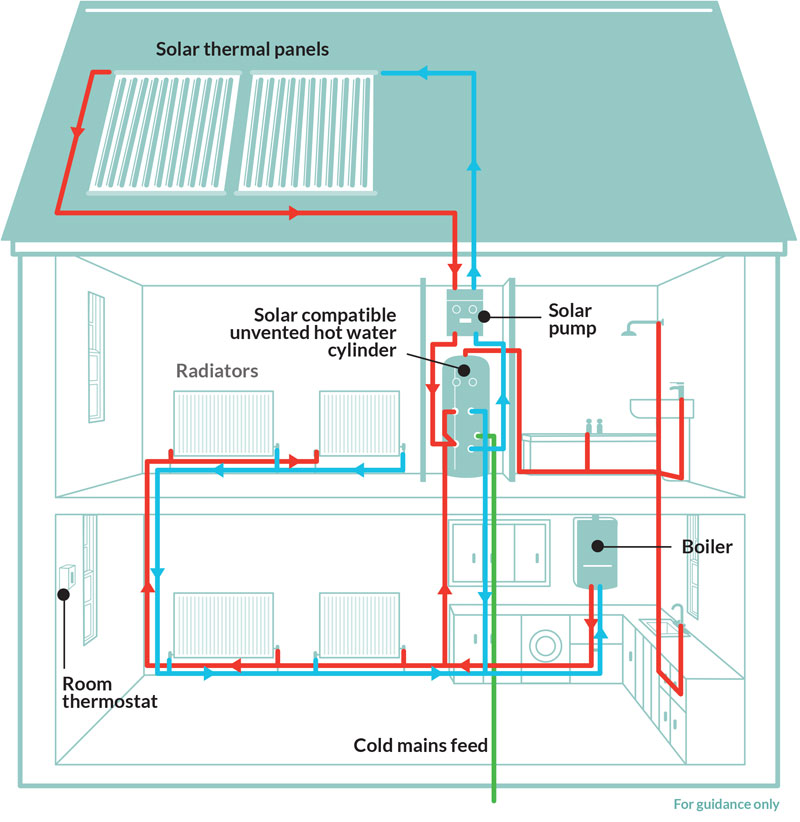 Unvented/solar system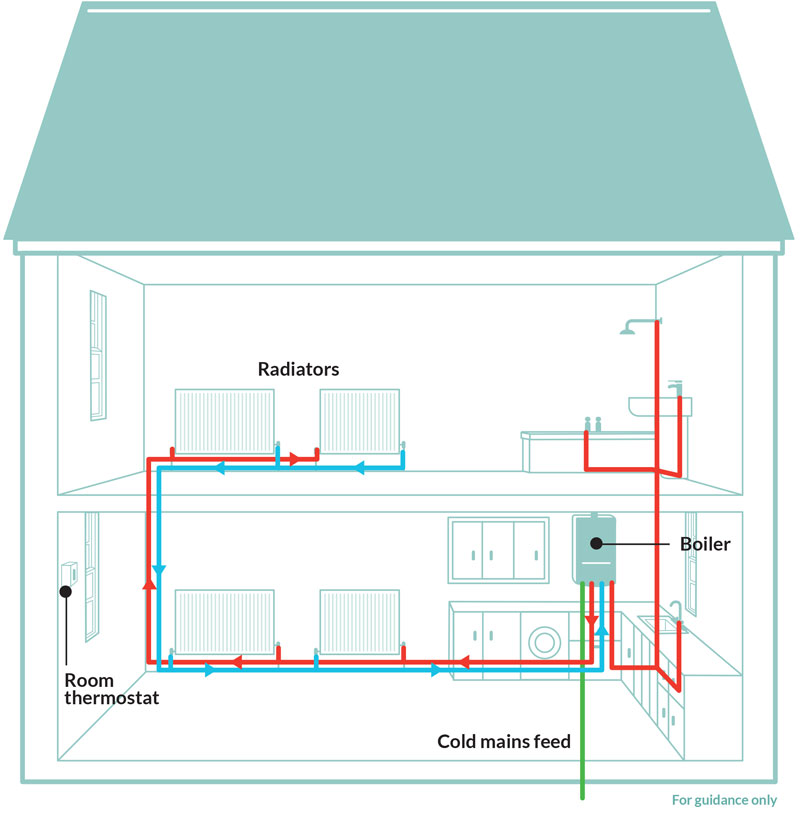 Combi boiler system
Combi boilers servicing and maintenance
As qualified Gas Safe engineers, we are experts in servicing and maintaining your boilers and our team are confident in tackling any of your central heating problems. Safety is extremely important to us especially when it comes to any gas appliance and the only way to ensure your combi boilers and gas appliances are working efficiently, and safely, is through regular professional servicing carried out annually by highly qualified heating engineers. To ensure any warranties are protected, an annual service is a requirement for most manufacturers and it is essential to ensure your appliances provide you with the best and most efficient performance.
Our boiler service includes:
A full flue analysis
Cleaning of filters
Removal of localised boiler sludge and debris
Checking the flue and terminal are not obstructed
Inspecting the burner chamber and cleaning if required
Checking the circulating pump is running freely
Topping up the system press and ensuring the expansion vessel is correctly set
We will also include the bleeding of radiators and freeing valves on request to ensure the central heating system is working well.
Repairing boilers
There are a number of problems that initiate a call out to repair general boiler problems. General boiler faults include the following:
Radiators fail to heat up
Sometimes your radiators may not get hot enough due to trapped air, a faulty radiator valve or sludge in the system.
Low boiler pressure
When boilers frequently lose pressure or switch off, there may be a leak in the central heating system or air vent. Alternatively, it could be a faulty pressure relief valve or the expansion vessel failing.
Problems with the pilot light on older combi boilers
New boilers no longer have pilot lights. If you have an older-style boiler and your light continues to go out, this may be due to a broken thermocouple, gas valve or air seal or perhaps an obstruction. If you would like peace of mind about your boiler, we can advise you on an annual basis when your boiler will require a service and send you a reminder notice or call.
Gas Safe Engineers
Working with any gas appliance calls for formal training, skills and experience. If an engineer calls to service your boiler without the right qualifications, this places you and your property at serious risk. More helpful advice on gas safety can be found
here
. If you have any further questions on a service contract for your central heating boiler or a new installation in the London area, please don't hesitate to contact us or fill in our form for a quote.