Is a wet room right for my home? What are the pros and cons of a wet room?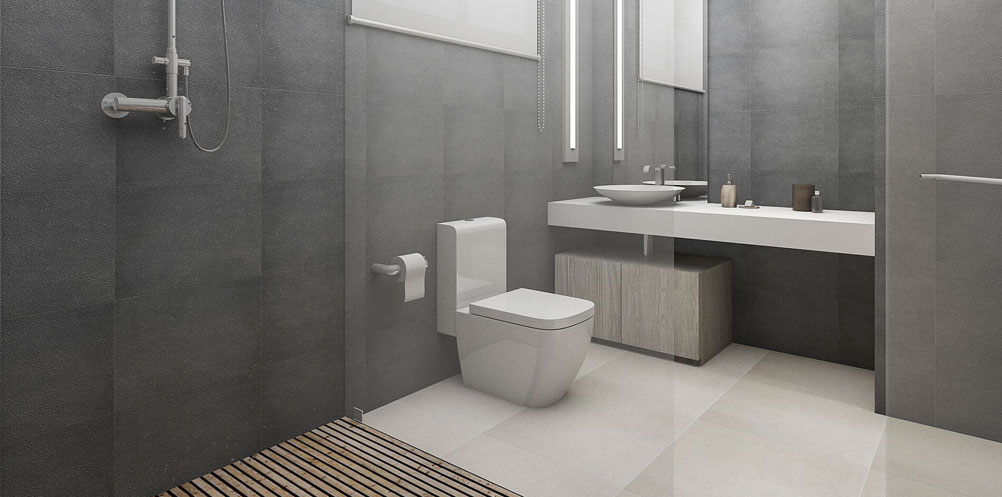 What is a wet room?
It has become super stylish to have a wet room designed in your home and at Kemco, we are being asked for them more and more. A wet room, in reality, is a sealed bathroom with walls and floors 'tanked' to make it completely waterproof. There is no shower cubicle as such - the whole room is waterproofed to prevent leaks. Wet rooms are tiled from floor to ceiling and drainage is extremely important.
Do you need a large space for a wet room?
If you only have a small bathroom, then replacing that with a wet room would be a good solution and there is really no need to have a bath. A beautifully designed wet room will give your home the 'wow' factor.
The advantages of a wet room
Wet rooms can look stunning, stylish and contemporary. Some families have a wet room as well as a bathroom and you can create your own look to suit your tastes. Busy families that spend a lot of time outdoors sometimes chose to have a wet room downstairs so that kids, sporty teenagers and athletic adults can clean up before they walk through the house. They are a very practical solution for anyone with mobility issues and are particularly useful for the elderly. Wet rooms are certainly attractive options for families and are much cheaper to install than they used to be. Choosing an experienced plumbing and bathroom installer is very important as there are some serious factors to consider.
Should you have underfloor heating to allow the room to dry out quicker?
How large should the drain be to take care of the volume of water for a power shower for example?
How much of a slope will the floor need to drain the water away quickly?
These are all factors which certified plumbing and bathroom installers, such as Kemco, would consider and advise on. Wet rooms are very easy to keep clean especially if your toilet and sink are wall hung as the floor is easy to clean across the whole bathroom.
Are there any disadvantages?
If you are thinking of getting rid of your bath, and keeping just a shower, then it may be worth considering if this will affect your property price in the future. As wet rooms are rapidly growing in popularity this probably won't be a problem especially as potential buyers are generally looking for something different and more contemporary. Buyers are now tending to view the addition of a wet room as an attractive feature. We also recommend considering your bathroom furniture as dampness can lead to towels becoming wet and, also your toilet paper. Some installers recommend a glass screen separating the shower area with the toilet. If you fancy using natural stone tiles, bear in mind that they are porous and will absorb moisture. To ensure your wet room remains waterproof, the natural stone will need to be resealed every few months which is why most wet rooms have ceramic tiles or something similar.
Design service
All of the above choices can be discussed as part of the design service we offer. Much will depend on the size of the room and whether it is your only bathroom. Our designer will give you some excellent ideas within your budget and you can be confident that the end product will be the envy of your friends.
Contact us today for a quote or, leave your number and we will call you back.